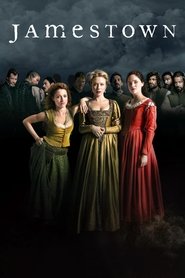 Jamestown
The early 17th Century story of three courageous, dynamic women who leave their dark pasts behind in England, and make the journey of a lifetime across the ocean for a new life in America.
Episodes: 2
Status: Returning Series
Seasons: 1
All Episodes
You may also like
Camelot
Camelot is a historical-fantasy-drama television series based on the Arthurian legend, was produced by Graham King, Morgan O'Sullivan and Michael Hirst.

Country:
Genre:
Patriot
To prevent Iran from going nuclear, intelligence officer John Tavner must forgo all safety nets and assume a perilous "non-official cover" — that of a mid-level employee at a Midwestern industrial piping firm.

Country:
Genre:
The Legend of the Blue Sea
How can a mermaid from the Joseon era survive in modern-day Seoul? Shim Chung is a mermaid who finds herself transplanted to modern times. She is caught by Heo Joon Jae, a charming but cold con artist who is the doppelgänger for Kim Moon, the son of a nobleman from the Joseon Dynasty. But in the present time, Joon Jae works with Jo Nam Doo, a skilled conman who guides Joon Jae to become a genius scammer. But Joon Jae's friend, Cha Shi Ah, who works as a researcher at KAIST, may be Chung's only hope for surviving in her strange new world.

Country:
Genre:
Time After Time
The adventures of young H.G. Wells and his time machine.

Country:
Genre:
Murder in the First
Murder in the First follows homicide detectives Terry English and Hildy Mulligan as they investigate a multitude of tragedies in San Francisco.

Country:
Genre:
Robin Hood
Robin Hood is a British television programme, produced by independent production company Tiger Aspect Productions for BBC One, with co-funding from the BBC America cable television channel in the United States. Based on the traditional stories of legendary English folk hero Robin Hood, the programme started on 7 October 2006. Series two commenced broadcasting on 6 October 2007 with the final two episodes on 29 December 2007. Series three began airing on 28 March 2009 for a thirteen episode run. The series was axed by the BBC after series three following the departure of multiple characters, including lead actor Jonas Armstrong.

Country:
Genre:
The Replacement
A woman who goes on maternity leave becomes increasingly paranoid about the motives of the person covering for her.

Country:
Genre:
Poldark
Britain is in the grip of a chilling recession… falling wages, rising prices, civil unrest – only the bankers are smiling. It's 1783 and Ross Poldark returns from the American War of Independence to his beloved Cornwall to find his world in ruins: his father dead, the family mine long since closed, his house wrecked and his sweetheart pledged to marry his cousin. But Ross finds that hope and love can be found when you are least expecting it in the wild but beautiful Cornish landscape.

Country:
Genre:
Awake
Michael lives in two separate realities after a car accident. In one reality, his wife Hannah survives the accident; in the other reality, his son Rex survives. Michael does not know which reality is "real", and uses the wristbands to differentiate the two. He sees two therapists: Dr. Jonathan Lee in the "red reality" and Dr. Judith Evans in the "green reality". At work, Michael's erratic behavior triggers clashes with his team; they do not know about Michael's uncanny ability to solve crimes using details from both realities.

Country:
Genre:
Grantchester
Drama series set in 1953, against the backdrop of the real hamlet of Grantchester. The drama focuses upon the life of Sidney Chambers, a charismatic, charming clergyman who turns investigative vicar when one of his parishioners dies in suspicious circumstances.

Country:
Genre:
Medical Top Team
The medical drama focuses on the lives of doctors and nurses who are members of an elite medical team from the fictional Gwang Hae University Hospital.

Country:
Genre:
Supergirl
Twenty-four-year-old Kara Zor-El, who was taken in by the Danvers family when she was 13 after being sent away from Krypton, must learn to embrace her powers after previously hiding them. The Danvers teach her to be careful with her powers, until she has to reveal them during an unexpected disaster, setting her on her journey of heroism.

Country:
Genre: