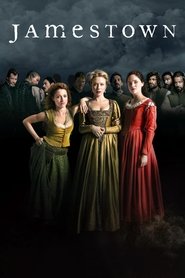 Jamestown
The early 17th Century story of three courageous, dynamic women who leave their dark pasts behind in England, and make the journey of a lifetime across the ocean for a new life in America.
Episodes: 2
Status: Returning Series
Seasons: 1
All Episodes
You may also like
Bring It On, Ghost
Hyun-Ji studied for her 19 years before she died in an accident. She is now a ghost and has wandered around the world for several years. Hyun-Ji then meets exorcist Park Bong-Pal. Hyun-Ji and Bong-Pal listens to various stories from ghosts and sends them to the otherworld.

Country:
Genre:
The Living and the Dead
Somerset 1894. When a pioneering Victorian psychologist brings his vivacious young wife to live on his family's estate, he is confronted by one disturbing case after another. Are these strange events linked merely by coincidence, or is there something more sinister – more supernatural – going on at Shepzoy?

Country:
Genre:
Doctor Who
The Doctor looks and seems human. He's handsome, witty, and could be mistaken for just another man in the street. But he is a Time Lord: a 900 year old alien with 2 hearts, part of a gifted civilization who mastered time travel. The Doctor saves planets for a living – more of a hobby actually, and he's very, very good at it. He's saved us from alien menaces and evil from before time began – but just who is he?

Country:
Genre:
Pure Genius
A young Silicon Valley tech-titan enlists a veteran surgeon with a controversial past in starting a hospital with a cutting-edge, new school approach to medicine.

Country:
Genre:
Powers
Two homicide detectives, Christian Walker and Deena Pilgrim, are assigned to investigate cases involving people with superhuman abilities, referred to as "Powers." Set amidst today's paparazzi culture, Powers asks the questions, what if the world was full of superheroes who aren't actually heroic at all? What if all that power was just one more excuse for mischief, mayhem, murder, and endorsement deals?

Country:
Genre:
Dark Matter
The six-person crew of a derelict spaceship awakens from stasis in the farthest reaches of space. Their memories wiped clean, they have no recollection of who they are or how they got on board. The only clue to their identities is a cargo bay full of weaponry and a destination: a remote mining colony that is about to become a war zone. With no idea whose side they are on, they face a deadly decision. Will these amnesiacs turn their backs on history, or will their pasts catch up with them?

Country:
Genre:
Dead of Summer
Set in the late 1980s, school is out for the summer, and a sun-drenched season of firsts beckons the counselors at Camp Clearwater, a seemingly idyllic Midwestern summer camp, including first loves, first kisses – and first kills. Clearwater's dark, ancient mythology awakens, and what was supposed to be a summer of fun soon turns into one of unforgettable scares and evil at every turn.

Country:
Genre:
Dirty Sexy Money
The Darling family's obscene wealth and enormous power makes them easy targets for their rivals, enemies, and the tabloids. Patriarch Tripp uses his money and influence to shield his five adult children from the prying eyes of the world. As the Darlings' reluctant personal lawyer, Nick George has barely begun to discover the legal – and illegal – needs of the family. Blackmail threats. Questionable deals. Illegitimate children. Illicit affairs. It will take every trick he can think of to keep them out of the tabloids – and out of jail. But if he can solve his father's mysterious death, it might be worth the hassle. Enter a seductive world of glamorous people, exclusive parties and delicious intrigue.

Country:
Genre:
Mirror of the Witch
Seo-Ri's mother Queen Sim was unable to have a child. She went to a shaman to help her have a child. With the help of shaman Hong-Joo's black magic, Queen Sim was able to have a boy and girl twins. The girl, Seo-Ri, was put under a curse and abandoned deep in the mountains. She meets Heo Jun, a young man, there.

Country:
Genre:
October Road
When Nick Garrett was 18, he packed up his truck and said goodbye for a summer road trip that turned into 10 years of being away. He has since become a literary celebrity in New York, living off the fame and fortune of his best-selling novel and movie, based on his hometown friends. To the literary world, Nick defined a generation, but to his hometown, he betrayed them by sharing secrets. Now, without inspiration for a new book, Nick returns to his hometown to find that feelings toward him have changed.

Country:
Genre:
DC's Legends of Tomorrow
When heroes alone are not enough … the world needs legends. Having seen the future, one he will desperately try to prevent from happening, time-traveling rogue Rip Hunter is tasked with assembling a disparate group of both heroes and villains to confront an unstoppable threat — one in which not only is the planet at stake, but all of time itself. Can this ragtag team defeat an immortal threat unlike anything they have ever known?

Country:
Genre:
The Divide
The Divide is a 2014 legal drama that aired on WE tv. The first season consisted of eight hour-long episodes. It premiered on July 16, 2014. On October 30, 2014, the series was canceled by WE-tv.

Country:
Genre: